Your spaces - creating great places
Do you need help maintaining your open spaces and trees? Do you require some ongoing upkeep or have a one off development project?
Aspire Landscape Management (Aspire) are here to support you with any outdoor project. We specialise in grounds maintenance, tree surgery and site clearances but offer much more.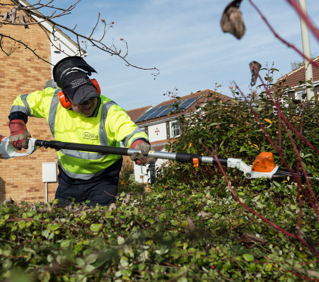 Full Arboricultural Services •  Tree Safety Surveys & Inspection  • Tree Planting • Installation of street furniture  • Pitch care • Mowing and Hedge cutting •    Play Area Inspection and works • Cemetery Services
Aspire is a commercial business wholly owned by Ashford Borough Council. We deliver in-house grounds maintenance solutions and management for the borough's parks and open spaces.
The service has a reputation for quality and excellence. We offer forward-thinking, sustainable solutions for a wide range of grounds maintenance needs. Our customers include both public and private clients.
Our work in the community over the last three years has produced a 100% client retention rate.
We work with our customers to offer a simplified and overarching service. We will help you to scope out all your options first to make sure you are getting just what you need, as well as completing the physical works.
Customer Feedback - read some recent compliments and reviews.