Our Cemetery Maintenance & Grave Digging Service
The work we carry out in cemeteries requires particular sensitivity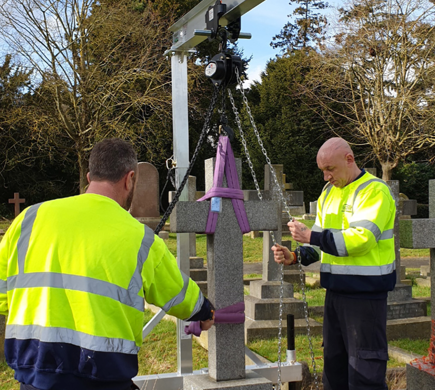 and outstanding people skills.
We currently provide full burial services at Ashford Borough Council's four open cemetery sites. We ensure we respect all faiths in this line of work.
We also have active cemetery maintenance only contracts at a number of closed burial sites. These include cemeteries in Molash, Appledore, Kennington and Willesborough.
Our cemeteries service includes the following works:
Grass and Hedge cutting
Path maintenance
Tree Planing
Woodland burials
Exhumations
Grave digging
Bench installation and cleaning
Floral displays
Memorial Inspection
Our staff are fully trained and experienced in memorial safety inspections and report writing. We ensure they keep up to date with current legislation, codes of practice and conduct. The team are fully equipped with lifting equipment. They use the latest techniques to ensure the least possible disturbance occurs.
Our memorial inspection service includes the following works:
• Safety inspection  • Risk profiling  • Categorisation  • Full reporting inspections  • Negative reporting inspections  • Making safe and laying down
Comments from the public
We have received the following feedback from members of the public:
"Just to let you know the interment of my Mother's ashes in my Grandfather's grave last Friday went smoothly and well. Your colleague Ryan was charming, considerate and very helpful!"
"The contractor who planted the tree was most helpful and accommodating. We were so pleased with everything, and my family would like to add their sincere thanks to you and your colleagues for making this possible."
"I just wanted to thank in particular your team who were very discrete and who waited very patiently whilst our small family group lingered after the ceremony prior to them attending to Dad's grave."